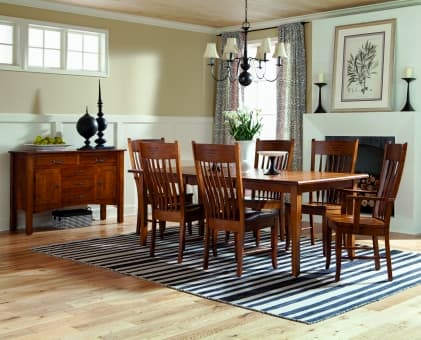 Whether you're hosting a lavish dinner party or gathering everyone at the table for a family meal, your dining room should be functional, welcoming, and stylish. To accomplish this, you'll need to get the most important piece of furniture just right: your dining table. If you're ready to choose a new table to share favorite dishes with loved ones, Adirondack Furniture offers a few suggestions to help you create a dining room design that's perfect for every occasion.
The Importance of Scale
Beginning with the most basic design element, you must choose the right-sized dining table for your space. If you don't, you could end up with a dining room that's all table, leaving no room for sideboards, other home décor, or chair adjustment. On the other hand, choosing a table that's too small for your dining room can leave it feeling empty and uninspired.
For larger rooms, long, banquet-style tables will seat all of your guests and create a clear focal point. On the flip side, smaller rooms benefit from square or round tables that provide a smaller footprint while allowing plenty of room for hosting. If you occasionally host larger holiday gatherings and other events but have limited dining area space, consider a table with a leaf. This allows you to expand the table's size when needed while maintaining open space the rest of the time.
Placement That's Just Right
Once you've chosen a table that's the perfect size for your dining room, your next task will be to determine the best spot and orientation to place it in. Without this imperative design element, your table could end up blocking your dining room entryway or being too close to other furniture, making it difficult for guests to walk around and take their seats.
Rather than engaging in this interior design faux pas, consider a few simple suggestions for dining table placement in smaller spaces:
If you have a rectangular table, try placing one of its long sides against a wall. Although it will seat fewer people, this method is a great way to maximize your dining room floor space while still offering a large place to eat.
Owners of circular tables can opt for centered placement in their dining rooms. With a round rug placed beneath the table and a light fixture centered above it, guests will have plenty of space to walk around your dining room and more than enough room to eat and chat.
If you have a larger dining room, you'll have fewer restraints to box in your design choice. Often, running a long table down the center of your dining room is the best way to go. This strategy fills up the central space in your room while still leaving plenty of open air for guests to move as they grab a drink or head to the kitchen for a second helping.
Create the Ultimate Dining Room Design
When you land on the ideal placement for your dining room table, it can really bring the entire room together. But good dining room design doesn't end there. At Adirondack Furniture, we offer a host of dining room furniture, including buffets, hutches, sideboards, and, of course, dining tables and chairs, to make your space complete. To learn more, visit our Syracuse or East Syracuse showroom today.